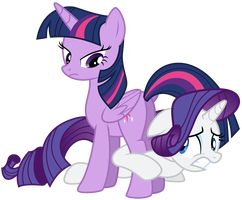 A visit to Twilight's house started off like normal. Some gossip here, some makeup there.
Then Rarity ventured into Spike's room, and is appalled at how child-like It looked. Dolls, Comic books, and even a Power Pony themed blanket. As an act of "generosity", Rarity decides to surprise Spike with a new room and gives away all of his collectibles.
His reaction? Well... It's rather... explosive.
---
An unrealistic interpretation of Spike's reaction if his comic books were to be tampered with. Written for fun/practice as my first comeback story since 2014! Enjoy!
Full reading was done by Night Spark! Listen to it here!
Thanks to FamousLastWords and ChappedPenguinLips for pre-reading and editing!
Chapters (1)