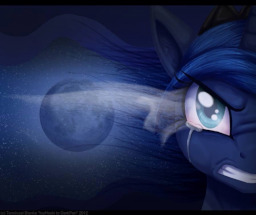 Luna loved her sister. She loved Celestia more than she loved the ponies of Equestria. However the ponies denied her. They only loved her sister and when Luna attempted to remedy their blasphemy her own beloved sister cast her from the world. Celestia had made Luna's own creation her cold and dismal prison. The stars had betrayed her. After a thousand years Luna had returned and her sister's pets had forced her to "exercise" her inner demon. The notion that she was ever possessed made her wonder what sort of lies Celestia had fed to her groveling sheep.
Luna stood alone in her tower and watched Canterlot burn. The changelings were bringing so much death and chaos. The captain of the guard was defeated. Princess Cadence was weakened and frail. The elements of harmony were no longer a threat and Celestia was incapacitated. Everything was proceeding as Luna had foreseen.
Edit: I am humbled that someone would consider to do a dramatic reading for one of my fics. FimFic user joehighlord did just that for What Once was Lost. If you would like to hear this story read out loud go here.
Chapters (1)