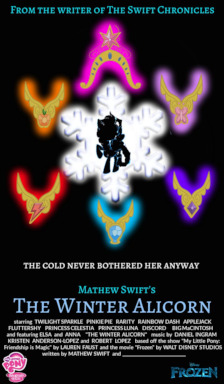 A MathewSwift and CrunchTheDestroyer fanfiction
---
There is a lost prophecy of the immortal Royal Seasons of Equestria. The Four Alicorns of the Seasons unite with Princess Celestia and Princess Luna for the Centennial of Seasons, to maintain the balance of nature in Equestria.
Now a newly crowned princess, Twilight Sparkle, as well as her friends, recently find out that the Winter Alicorn, Winter Winds, or Elsa, is jealous that all of Equestria neglects her winter beauty over the cold winds, threatening to plunder Equestria in eternal winter.
Along with Discord, Big MacIntosh and the Spring Alicorn, Tulip Rose, or Anna, the Elements of Harmony attempt to find Elsa, before Equestria is Frozen forever.
---
Edited by NotARealPonydotcom
Mixing MLP and Frozen
MLP (c) Hasbro
Frozen (c) Disney
Chapters (2)