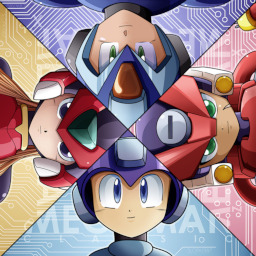 Source
It's been said that every time period is connected. Science cannot prove that a bend in Time-Space can happen, but it has.
When Megamen from every time period use their most powerful attacks in the same exact spot on earth, they rip open Time-Space and are flung to another dimention, one filled with ponies and magic. How will these creations of science survive protecting these magical ponies and warding off old and new enemies, not to mention each-other.
Link to the Knowledge Base: Megaman Knowledge Base
Megaman series belongs to Capcom
MLP:FiM belongs to Hasbro and the Almighty Lauren Faust
The image does not belong to me.
Chapters (1)