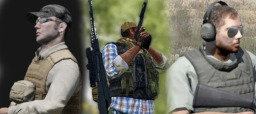 Source
---
Echo 1 is the callsign belonging to a group of armored vehicle operators in Takistan, the battlefield where every warfighter respawns. They're labelled loose cannons after an explosive incident, and are confined to their base as punishment. As the three start to ponder their use, a freak accident results in their arrival to Equestria.
Another day, another area of operations.
Echo 1-1 Actual: "Raptor", Stryker Commander (Sport Shades)
Echo 1-2: "Roar", Stryker Driver (Aviators)
Echo 1-3: "Splash", Stryker Gunner (Striped Shirt)
---
No gore, projectiles are magical. The level of violence shown is hardly above that depicted/suggested in the show.
A story inspired by my unhealthy ArmA addiction.
Chapters (3)