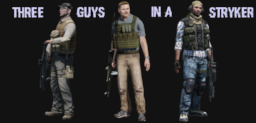 This story is a sequel to Three Guys in a Stryker Save Canterlot
---
Buckle up kiddies, Echo One is back! After breaking the changeling invasion, unfortunate circumstances lead the Stryker crew to take it easy and stay in Equestria. However, despite their service and hero status among many, shadows are playing in an attempt to force the three BLUFOR soldiers from their world. Their problems don't stop there either.
Is a little slice of Heaven too much to ask for?
---
A sequel to the story inspired by my unhealthy ArmA addiction.
Vulgarity is present in the story. Like it's predecessor, gore is a non-factor. Our guns are still firing magic, logistics has been consulted; they told us to deal with it.
---
LEFT TO RIGHT:
ECHO 1-1 ACTUAL: "RAPTOR" (STRYKER COMMANDER)
ECHO 1-2: "ROAR" (STRYKER DRIVER)
ECHO 1-3: "SPLASH" (STRYKER GUNNER)
Chapters (10)