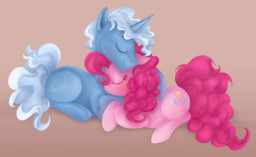 Source
Pokey Pierce, a unicorn stallion with unique horn. He likes to pop balloons with it, and he enjoys it so much that he even got his cutie mark by doing it!
An accident happens in one of Pinkie Pie's parties. Pinkie says something she shouldn't have said, making Pokey's self-esteem drop.
Pinkie Pie finds out about it, and feels quilt by what she had done. She goes to cheer up Pokey, and they become friends. Years go by, and their relationship starts to get a whole new shape..
Thank you Jmaster, for proofreading my story.
Cover art by Mn27 on deviantART
Chapters (11)