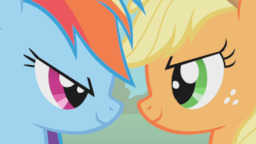 (Sorry for the dull, non-unique title. I could not figure anything else.)
This is a some sort of sequel for my previous story: Fluttershy... In a bar? You should check it out!
Its been one week after Applejack found out that his brother was dating somepony from the town. Big Mac was too stubborn to tell her who it was, so she decided to find that mysterious filly herself. Rainbow Dash drops by the farm, and Applejack soon finds out to be accompanied by her rainbow-maned friend.
I decided to make a shipping of every pony from the mane-six, one by one. (or in this case, two at the same time :3)
Chapters (11)