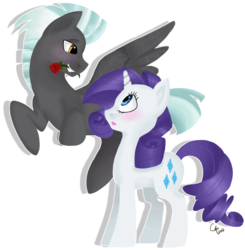 Source
This story takes place during, and shortly after Titillating Trifecta.
Story was inspired by SnugBunny's picture with same name.
Rarity gets to know with Rumble's big brother Thunderlane during Rumble's visit at the Carousel Boutique. She then notices that one certain stallion keeps spinning in her thoughts, and decides that she has to do something about it.
Is it even possible for such a lady like Rarity to fall in love with a rough and bad mannered pony like Thunderlane?
Chapters (10)