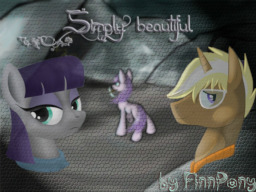 Trenderhoof has always been a stallion that liked simple, down to earth things and Maud has always been a simple, down to earth pony. Guess what happens when these two meet?
That's right! A romance filled with awkwardness.
When I saw the episode 'Maud Pie', I immediately got this idea. They're perfect for each other! I would have started writing sooner but I had my hands full with Popping her balloons.
Thank you so much Panzertank, for making this awesome cover art for me! I appreciate it.
Chapters (8)