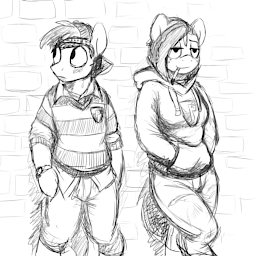 Source
(Button Mash x Babs Seed) (Semi-Anthro)
Button Mash is an unpopular, videogame loving dork who is regularly picked on in school. Babs Seed is a new transfer student and a fierce brawler who doesn't take any lip from anypony.
One day, Babs meets Button in the hall on the way to class. Or rather, sees Button on the ground with three others above him. After scaring off the offending ponies, Babs helps Button to his hooves and walks with him to class. After that, the two become fast friends and start to get to know each other...
Short episodic scenes based on a series of pictures by Gordonfreeguy. You can find his tumblr here.
Chapters (9)