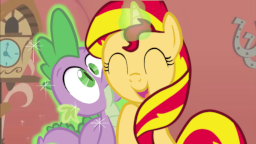 Sequel to Sunset's Beauty. Sunset Shimmer and Spike return to Ponyville after their honeymoon. They wont return and everything go back to normal, no sir. Follow as they face ponies who don't agree with their relationship and more issues and even start a family together.
Notes:
-Looking for cover art. Please send me your drawings, even if i don't use it for the cover picture i will make sure you get a shout out.
-Credit to Draconian Soul for the idea of a dracony and the name of such.
-Edited by the best editor alive Alticron!
Chapters (3)