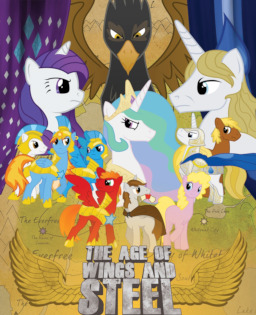 Three hundred years after the fall of Princess Luna, Equestria teeters on the brink of disaster. Bitter political infighting and power-hungry nobles threaten to tear the country apart in a bloody civil war, while in the south old enemies prepare to reclaim their ancient homeland from the ponies.
As Princess Celestia desperately strives to hold together her splintered nation, she sends a young pony on a quest to the northern lands that border Equestria in order to plead for aid against the threat of Grypha. This unlikely messenger is Rye Strudel, the flightless, magicless, half-breed son of a guard and a baker. Rye must do the impossible and unite the thanes of the north... for if he cannot, there may be no home to come back to.
Now has a TVTropes page.
Chapters (67)