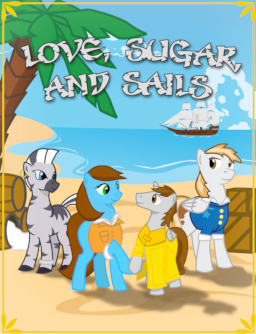 This story is a sequel to The Age of Wings and Steel
---
Tyria Metrel, an ensign assigned to the Equestrian embassy in the island city of Zyre, has her hooves full dealing with pirates and bad-tempered politicians. On top of that, a new ambassador named Rye Strudel has arrived on a mission from Princess Celestia, and he might well be the strangest pony she's ever met. Ambassador Strudel is a pegacorn, one of the rare crossbreeds unable to fly or do magic, but Tyria soon learns that his disabilities don't prevent the ambassador from getting himself into deep trouble.
Rye's cheerful curiosity and drive begin to stir up feelings Tyria thought she'd given up on—when he's not making her tear her mane out in frustration. After the two of them stumble upon a treasonous plot to seize control of Zyre, they'll have to work together to foil an old enemy, save the city, and maybe even find love along the way...
... provided they don't drive each other crazy, first.
Chapters (41)