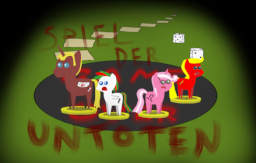 Four survivors find themselves playing a dangerous game after Canterlot falls to the zombie outbreak. Their only chance for survival is to play by the rules. They must earn points and spend them wisely if they hope to uncover the truth behind the outbreak and bring an end to the madness now surrounding them. Surely some-pony is pulling the strings and if any-pony is going to have answers, it's Princess Celestia.
(Formerly known as Vorhaben der Untoten)
Canceled. Want to know how it would have ended?
What would have been.
Chapters (7)