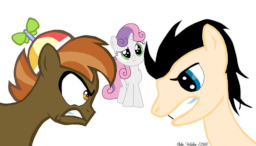 Source
This story is a sequel to CAPS LOCK
---
After several months, Caps Lock has finally made a friend at Ponyville Elementary School. Button Mash may not be the troll Caps Lock is, but he sure can hold his own in Battle Stallion. They spend all their time gaming together until Button takes up a new interest: Sweetie Belle. When she sends down an ultimatum, Button must choose what's more important: Caps Lock's friendship or her.
Hearts and Hooves themed story.
Thanks to Sky Wishes 7266 for the wonderful cover art!
Chapters (2)