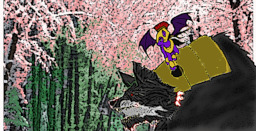 Source
Scar the gnoll and the newly-formed pony squad arrive in the Griffon Kingdoms, eager to hunt the hated Izelim from their hiding places but unaware of what sinister plans lie hidden in the dark.
While the ponies and griffons focus on the present and what the future may bring, the gnoll finds himself faced with his own past as their journey takes them closer and closer to his old, forgotten home.
This is the second part of The Reader. Reading the first part is not necessary, but is highly recommended.
Chapters (9)