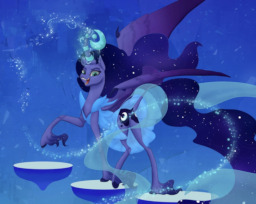 Source
Fluttershy lives a peaceful life with her geese, taking them every night to graze in the meadows above the palace, hurrying home before the forbidden sun rises. She tries not to look at the statues of the fallen princess with her sun cutie mark, broken and half-buried in the undergrowth. She tries not to look at the Midnight Spire as it rises before her, dark and terrible.
---
Trigger Warning: and please take these seriously, as this story gets dark - blood, injury, violence, elements of abusive relationships, and even some slight suggestions of non-consent. These aren't used gratuitously and are treated with the appropriate horror by the main character. Please do not read if any of this will be triggering to you. This is an exploration of what the Nightmare Moon AU would be like for poor Fluttershy, and is correspondingly dark.
---
This story is the first of four. The second is The Sorcerer and the Seneschal, with the others coming soon.
---
This was originally written as a christmas present for Zontan and if you like the tone of it I suggest you read his Shadow Within.
Chapters (1)