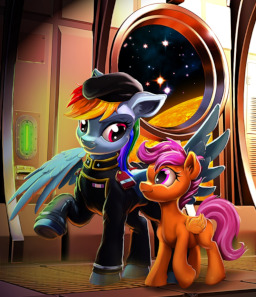 Source
This story is a sequel to Ms. Midshipmare Dash
---
Ensign Rainbow Dash, Royal Manticoran Navy, thought her past was behind her. She was wrong.
---
A sequel to Ms. Midshipmare Dash. It's by no means necessary to read the prequel first. 
A crossover with The Honorverse, but zero knowledge of that source material is needed. I created an Honorverse Crossover group.
Thanks to Samey90, Justified Paranoia, Mockingbirb, and Raleigh for pre-reading.
---
Cover art by commission with Harwick. This looks amazing, and big thanks!
---
Chapters (1)