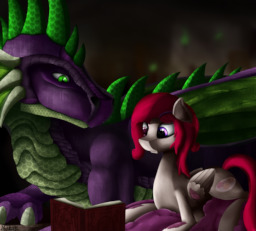 Source
This story is a sequel to A Daughter and her Dragon
---
When Cotton Candy was adopted by Sir Spike the Dragon, she never expected to become part of such a large family. Unfortunately, there are some members that she never had the chance to meet.
These are their stories.
Pre-read and co-written by Crystal Moose
Edited by Dreams of Ponies
Cover art by NixWorld
---
This is a collection that answers some questions in A Daughter and her Dragon, so it contains spoilers up to chapter seven. It is recommended that you read those chapters first for context.
Character tags will be added along with their respective chapters when they are published, which will be every day until completion.
Chapters (3)