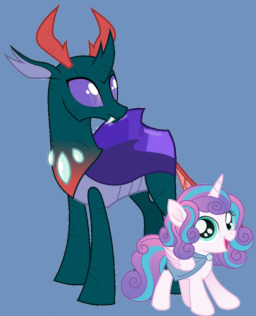 Bureaucracy can be boring, especially to a young filly. 
Babysitting can be annoying, particularly to a changeling general.
When unfortunate circumstances force Princess Flurry Heart and Prince Pharynx into each other's company—on Hearth's Warming, no less—the two find that even if initial plans fall through, the resulting backup may not be all that bad.
---
This Breezie story was written for Yoshikage Kira as a part of Jinglemas 2021! For more information about Jinglemas, check out our group!
---
Cover art put together by Shakespearicles
And now with a reading by Nailah!
Chapters (1)