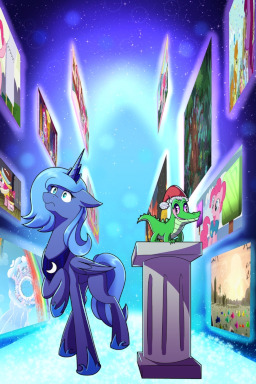 Source
The Elements of Harmony have freed Princess Luna from the clutches of Nightmare Moon, and she could not be more grateful to their bearers. For her first Hearth's Warming since her return, Luna wishes to give each bearer a gift in thanks. However, having not spent any more time in Ponyville, she knows very little about them, and thus has no ideas on what to give them. 
Having regained her power to dreamwalk, Luna decides to search for inspiration in the Element bearers' dreams, but upon her first foray into the Dream Realm, she finds someone she never would have expected.
---
 
This story was written for Reactception as a part of Jinglemas 2021! For more information about Jinglemas, check out our group!
---
Cover art by (and story title totally stolen from) the incredible Little Tigress!
Chapters (1)