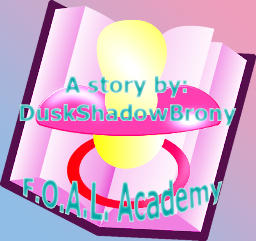 WARNING/ALERT/DANGER/CAUTION: This story contains age regression/diapers/etc. Please do not continue on if you do not enjoy this.

Twilight receives a mysterious letter, accepting her into Fantasy Omega's Academy of Lora. What will happen during her time there? Who's the Headmaster, and why does nopony ever see him? Everything is not what it seems at F.O.A.L. Academy!
Academy Motto: To re-learn what was lost long ago
REDUCATION
Thank you, Zubric, for roleplaying this with me to iron out some details.
Chapters (10)