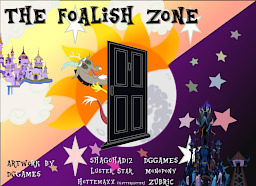 We are rewriting this from the beginning. Please watch user: DuskShadowBrony for an update.

DustStorm. Gold Rush. Grey Ghost. Dead Ink. Flutter Glitter. Luster Star. They were humans once, like you and I, but something happened. Something Big. Now their 5 friends get sucked into a world they could only dream about . This is their tale. The archive of thier new lives in Equestria. This is, the Foalish Zone.

This project is a group collaboration between a couple people in the padded ponies/adult foals group, the 'Palringo Padded Ponies'.
Care to join us for some roleplay or chat? http://www.palringo.com/en/us/ If you need the PC version, ask Monopony, he has the files you need. Join the room: ppaf
Monopony, Monopony, Zubric, Hottemaxx, DGGames, and Shagohad, Luster Star.
Not all chapters are sequential or storyline, and this story does take place in an alternate timeline of Super Stallion's Foal-a-verse, which DGGames is a writer for.
RATING INFORMATION: This story is rated teen for mild swearing, and occasional crazies. you have been warned.
IMPORTANT: This story is as stated previously a ppaf collaboration. If you dislike regression, diapers, and/or foalish behavior, TURN BACK NOW!!
Otherwise welcome to a place, where time has no meaning, where space is convoluted, and where foals are everywhere and nowhere.
WELCOME TO THE FOALISH ZONE!!
Chapters (8)