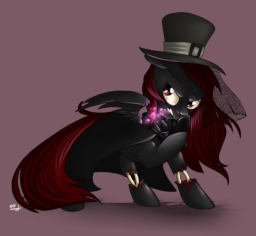 Set in the world created by Kkat and expanded upon by other authors, this story takes place in Fallout: Equestria, following the journey of Nevermore. Unforgiven, she atones for her sins through aimless wandering, enduring the suffering around her. Her life is a cold and lifeless thing, and she has grown to accept her fate, as much as she rails against it. But perhaps even one such as she can find a glimmer of hope in the blasted wasteland, or will the world break her further, as she races against time.
All rights to their original owners. No claims made or implied by this work.
Thanks so much to Nessy from http://tehfizzle.tumblr.com/ for the wonderful artwork!
Chapters (25)