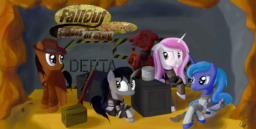 In this lightless world, the line between good and evil is not as clear as it used to be. I am no hero.
My name is Spring, and I am a bounty hunter in the Equestrian Wasteland.
Alternate link: Google Docs (NEW: sync'd to my PC - now with bleeding edge spellchecking)
Prior knowledge of Fallout: Equestria is advised but not mandatory.
Disclaimer: This story has nothing to do with Fifty Shades of Grey.
WDTP: S3E12\NC
Chapters (20)