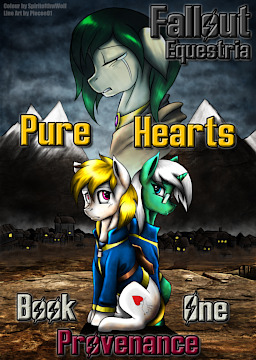 Source
Dovetail was a security officer in Stable 61 when that stable opened its door for the first time in 200 years. Chosen along with her best friend, Lilybloom, to be the first scouting party into the world above, these two mares will face their biggest hardships ever. Their tale will take them on the journey of their lives: from the comforts of their stable home all the way to the Frozen North and into legend.
Pure Hearts is getting an audio book, courtesy of reader, FedoraSonar! The recording for the intro can be found here: |Link|
Google Docs version available here: |Links| (please note that new chapters will be available here, but they are to be considered unedited and unfinished before they appear here).
Theme song is out! Thanks to the amazing Ethan Sight for it! Go listen to it here, and please support him by buying the song on itunes: |Link|
**While I've done my best to make this piece new-reader friendly, a familiarity with the amazing original work, Fallout: Equestria, by Kkat, may help your understanding of this story and the fantastic universe it is set in. Please check that out here if you so choose: |Link|**
Cover art by the amazing FoxInShadow on deviantart!
|Link|
Edited by: TheHerpestOfTheDerp (On hiatus)
Pre-read by: Eeveexpert
(On hiatus: Doomande, JetWave, and Piecee01)
Chapters (8)