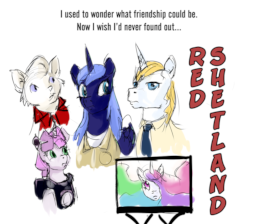 Shortly after the start of her maiden voyage the Equestrian Deep Space Explorer Red Shetland, commanded by Twilight Sparkle and Princess Luna, disappeared after reporting a reactor problem.
Three million years later, following her release from a stasis pod, Luna wanders the deserted corridors of the ship and tries to understand what went wrong. Along with the Ship's AI, a creature that evolved from the ship's cat, a hyperactive service robot and the resurrected holographic personality of Prince Blueblood, Luna must stave off boredom, keep the ship in order and find a way to return home.
Assuming she even has a home left to return to.
But first, she needs a drink.
Chapters (3)