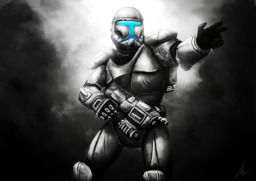 Source
A long time ago, in a galaxy far, far away...
Shortly after the Second Battle of Geonosis, a Republic probe reports the discovery of a new planet outside of their galaxy, a seemingly insignificant occurance, if not for the CIS frigate seen orbiting the planet. Curious to see what the Separatists have found, the Republic sends a cruiser to the planet, only to be suddenly ambushed by several CIS ships. Determining that the CIS has discovered something important and prehaps vital to their war efforts, Mace Windu and Obi-Wan Kenobi dispatch Victor Squad, a group of...special clones, to the planet's surface to investigate it.
Their mission carries more weight than they think.
Shoutouts to Nathan, my friend Fernando, kento124, and to Legion222 for proof reading and editing.
Shoutout to Ultima Fatalis on DeviatArt for the awesome cover art.
Follows MLP canon excluding S3E13 and beyond as closely as possible.
If you're going to dislike, at least have the courtesy to explain why.
Undeservedly featured on 6/15/2015. Not sure why, but hey, that's cool.
Chapters (15)