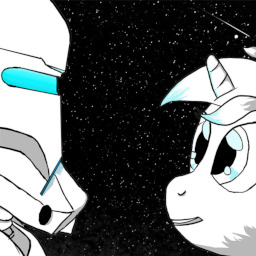 Source
The Heartstings are a musical family that can often be found traveling across Equestria. However, on a trip from Appleloosa to Canterlot gone wrong, Lyra and her parents are suddenly abducted by a Toydarian bounty hunter and explorer, and are sold off to a Coruscant slave trader and "exotic pet owner".
RC-1874 is a clone commando gone rogue. After a series of terrible losses in his life, he has been forced to go as low as a bounty hunter by the name of Slum to merely survive. He finds a well paying bounty for one Coruscant slave trader and "exotic pet owner", which he takes up. Credits are not his only reward though, as he finds himself in posession of an unknown creature that calls itself Lyra and claims to be from a place called Equestria.
And Slum makes it his duty to get Lyra back home.
Takes place a few years before the events of Victor Squad: New Frontier and before the beginning of MLP:FiM. No experience with Victor Squad: New Frontier is necessary.
Shoutouts to Legion222 and to RadarLakeKosh for proof reading and editing.
Shoutout to Feather Book for the awesome cover art.
If you're going to dislike, at least have the courtesy to explain why.
Chapters (4)