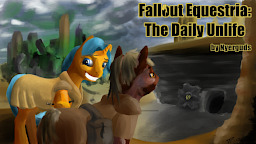 Source
"Live a little, they say. Easier said than done."
These are the voyages of the Canterlot ghoul Lemon Frisk. His mission: to find the Meaning of Unlife. His continuing perils: crazed raiders, feral ghouls, overzealous rangers, deranged robots, and a mare who won't stop poking him.
Read it on other sites:
Google Docs
Pony Fiction Archive
Audio book on YouTube (by NitoKa)
Download: (warning - E-books include the explicit "Night Eight" chapter

)
The Daily Unlife E-book in epub format (936 KiB)
The Daily Unlife E-book in pdf format (4.32 MiB)
TDU Media Pack: all the stuff linked to from the story and more, to enjoy all of the story offline (16.49 MiB)
---
This fanfiction is based on Fallout: Equestria by Kkat; a familiarity with the source material may aid your understanding. You can find Fallout: Equestria here on Equestria Daily, or here on FimFic.
If you enjoy Fallout Equestria side stories, you can visit the Fallout: Equestria Resource website, which hosts a complete archive of all of them, and has links to useful places like the Fallout: Equestria wiki and community irc chat.
Chapters (18)