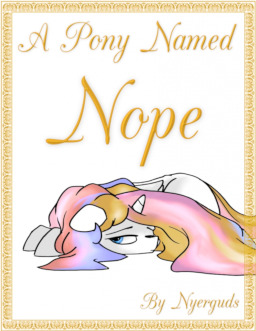 Source
In an unremarkable city, in an unremarkable hospital, to two unremarkable ponies, a filly was born. A filly who was all too remarkable. A filly who radiated Destiny, and Adventure.
Her parents, however, liked their unremarkable life, in their unremarkable city, and wanted nothing more for their little filly than to have a nice, normal, unremarkable youth. So whenever Destiny or Adventure reared their heads, they made sure to nip it in the bud. Magical portals, foreign princes, time travellers and mysterious salesponies of magical musical instruments all got the same answer:
Nope.
---
Based on the Nope: The Anime joke (original posts) that went around on Tumblr some years ago. Expect silliness.
Covert art based on a picture by greyscale / Theponysketchguy, edited by me to change her hair and eye colour and make her look younger.
---
Spanish version:
Un poni llamado Nop on DeviantArt, translated by SPANIARD KIWI.
Chapters (12)