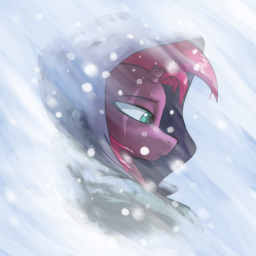 It is a peculiar thing how the cold makes equals of all creatures - even though already hardened by the fires of their fury. How its twinkling tapestry makes all life that breaks through its bitter chill all the more beautiful. Perhaps this icy inroad will help turn Tempest back from her Equestria-eradicating mission before it is too late.
And if not, maybe it will show her another who can break through her hardened heart. If only for a while.
---
This fic was a tied first-place winner of the Quills and Sofas Poetry Slam Contest. Thanks to Shaslan, Red Parade, Master-Thief, _TGAPT_ and DTP for reviewing.
Chapters (1)