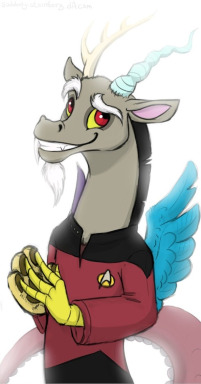 ...The Continuum feels this species may be a real threat to the Q. However, they also show a unique ability to contain their power. They do not appear to use their abilities for power, greed, or war. We need to see if the species as a people are a threat to the Continuum and not just their abilities."
"And locking me away in a statue, to rot away in a garden, doesn't show that?" The face on the statue squirmed and struggled to free the rest of its body.
"No. It doesn't," said Q. "But it would seem an opportunity has presented itself. The Enterprise is heading for this region of space. Perhaps you could utilize their presence to…provoke…a situation?"
Both Q started grinning together. "Oh you know me too well, Q. I always enjoy seeing my favorite starship captain."
The blond Q reanimated the rest of the statue. Discord stepped off the pedestal onto the soft grass. "This is going to be so much fun," said Discord as his shape began to contort and transform. Within moments a familiar figure in a Starfleet uniform was standing where Discord had been a moment before. As the pair started walking away the blond Q said, "Just remember, Q. This isn't just some random species to be toyed with. Any species RELATED to the Q, can KILL the Q!"...
(Season 2 Discord)
Never Seen Star Trek: The Next Generation? Here's a brief introduction to Q: http://www.youtube.com/watch?v=kBwoEXlTph0
Credit to Suddenly-Steinberg for the cover art:
http://suddenly-steinberg.deviantart.com/art/Discord-x-Q-312694442
MLP Season 2
Chapters (14)