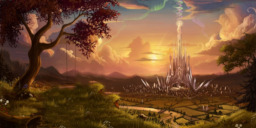 Source
A young princess in search of a kingdom, who lost her heart to an old foe.
A would-be empress who found a higher purpose in the mare that stole her heart.
Flurry Heart and Cozy Glow know that the world is theirs for the taking, and that one day they shall take it for themselves. But for now, they have found peace in one another, atop a hill in the outskirts of the Crystal Empire.
---
A series of vignettes about the power of love, and the love of power.
Chapters (5)