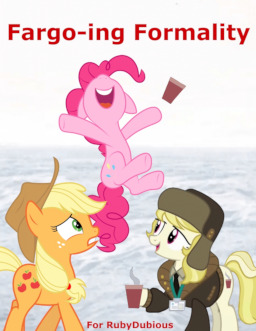 Twilight's new delegate exchange means Applejack and Pinkie Pie are left in Ponyville to greet the visiting delegate. Unfortunately for them, the Whinnyapolis delegate comes bearing gifts - warm, caffeinated gifts.
Written as a gift for RubyDubious. Also a part of the Quills and Sofas Speedwriting Plain Jane speedwrite, where it was finished in an hour.
---
A thank you to Silent Whisper, themoontonite, Seer, wishcometrue, Shaslan, Knox Locke, Zontan, Flashgen, _Moonshot, Vis-a-Viscera, Snow Quill, and The Red Parade, as well as some others for proofreading and editing before publishing.
Chapters (1)