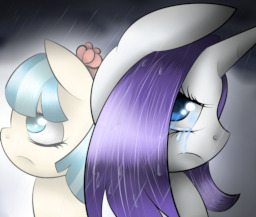 Source
Rarity, otherwise known as Radiance, is one of Maretropolis's top heroes in a society built around superpowers and amazing deeds.
Coco Pommel, otherwise known as Thorny Rose, is a mare with a terrifying power and an even more terrifying situation—the only work she can find is as a henchmare to the notorious Knitpicker.
In an attempt to thwart Radiance for good, Knitpicker orders Coco to charm the heroine and break her heart like nopony else could. But Radiance's unwavering faith and generosity might just be Coco's salvation...
My final love letter to FiMFiction, featuring superheroes, redemption arcs, and two of my all-time favorite mares. Coverart by TheTarkaana.
Chapters (2)