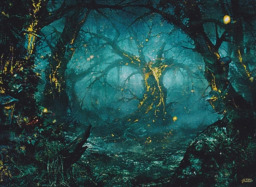 Source
Moonlight is a blank flanked pegasus that travels across Equestria in search of something that would give her life meaning and purpose. On one of her stops across the country, she arrives in a town bordering a forest known as the Dead Woods. The Dead Woods are known by the townsponies as a place devoid of all life, save for the trees, due to never seeing an animal exit the woods and nary a peep escaping its borders. Moonlight hears of this and figures there might be a great treasure hidden in there, just waiting to be claimed, and proceeds to head into the woods in search of that treasure. But after wandering through the woods for hours things begin to turn south, and the treck back to the entrance to the woods begins.
---
This story was written for Little Tigress as a thanks/compensation for doing art for one of my stories.
---
Thanks to my editor Typoglyphic and my friend Azure Drache for looking over the story and helping me polish it up.
Chapters (4)