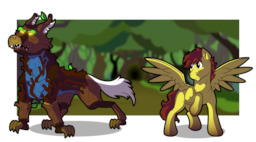 The world is vast -and it's life even more so- but what happens when creatures seen by the world to be little more than a blight by most sapient creatures are taken in as pets; taken in and cared for like one would a do for a lost cat or dog?
The world is cruel, and runts experience this reality starting the moment they are born. One night, a young foal hears the cries of a pup and runs into the forest behind his home to find it and rescue it. This pup though turns out to be a timberwolf runt, abandoned by its pack. However, the little colt doesn't care, and he convinces his parents to allow him to keep it.
---
Most creatures of Equis see the creatures known as timberwolves as a menace that needs to be controlled. But one pegasus knows otherwise; Forrester. Forrester has the special talent of being able to communicate with and care for any timberwolf he comes in contact with. One day, he comes across an injured timberwolf that's larger than him while exploring the forest near where he lives in an attempt to find out if the rumors he'd heard regarding strange behaviors of the timberwolves that live in there were true. He is able to convince the injured timberwolf to allow him to help heal it. Will Forrester be able to help this strange timberwolf, or better yet, will he be able to gain something he had always been hoping to acquire since he was a colt, his own pet timberwolf?
---
This "story" will be a collection of stories, all taking place at roughly the same time, and all involving the adoption of timberwolves by creatures of all stripes.
Edited and proofread by 0_0
Cover art by Little Tigress
Chapters (5)