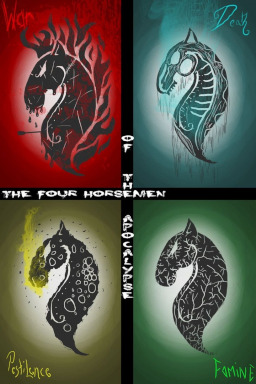 Death, War, Pestilence, and Famine.
The mythological christen riders that are rumored to be the ones that are to bring judgement on earth one last time before the earth dies. Supposedly named and serve as the punishments of god for humanities sins when the time comes.
But What would happen if one were to unleash these four apocalyptic beings in to a world where instead of sinful, disharmonious humanity there is. Ponies, Yaks, Dragons, Griffons, and more. Will they start the apocalypse in Equestria? Or be affected by this dimension harmony?

This story is my oc's take on the horsemen that come from my own world, so it might not line up with what the bible says. This is also my first story if you haven't guessed already.
Chapters (17)