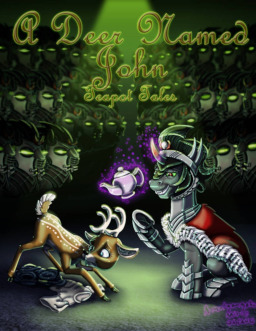 Source
Five humans fell through the barrier between two worlds, straight into the clutches of King Sombra. Forced to drink from a mystical teapot, their bodies transformed into beasts he could use. With his helmets in place he now commands them:
The Yak with brutish strength, the Unicorn and his piercing spells, the Thestral who stalks the night battlefields, and the Dragon that rains down fire on those who oppose their Great King. All four now loyal soldiers.
But what of the fifth? What happened to the last human in the group and why does he not fight alongside the others?
Warnings:
- The death and gore tags relate to particular moments that are more implied than seen and described.
- Darker themes are usually in, but not exclusive to, the main story arcs.
- There is also minor talk of suicide in a very short part, so I have added the tag just to be safe.
- Contains themes regarding gender identity and dysphoria which play out over the course of the entire story.
As before, this may need to change rating from Teen to Mature.
Cover art is by the very talented Mix-up.
Um, apparently this made the featured list on January 15th 2020... Thank you all so much!
Featured on Equestria Daily on May 26th 2020!
This is the home of the stories known as the Teapot Tales.
Side story arcs will be between the main arcs.
Side stories along with a second and third arc are already planned.
Chapters (21)