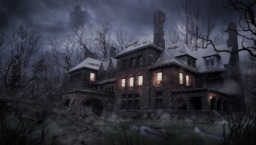 Source
When Starlight and Trixie are called to an old, abandoned manor, Starlight is skeptical of the legends of a curse hanging over the house. But why would the map call them if there's nopony here?
Wait, those doors weren't open before. And why does this not look like it's been abandoned? What was that sound just now?
---
This story is a Christmas present for my friend Azure Drache and was posted here for your enjoyment with his ok.
---
Edited by 0_0. The long description also thanks to them.
Chapters (1)