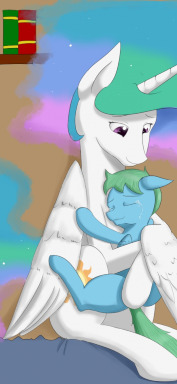 Source
This story is a sequel to Sleepless Snuggles
---
Princess Celestia is often viewed as a mother to all ponies under her rule. She would never hesitate to aid those in need; Such as when she visits an orphanage in Canterlot to aid with a fundraiser. However, a chance encounter with a colt holding big dreams to his heart would soon hold drastic changes for her.
Contains: Momlestia and weaponized cuteness.
Cover pic by Ruanshi
Beautifully read by the talented Lotus Moon.
Chapters (1)