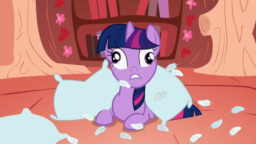 Source
It's been a few months since Tirek's defeat.
Peace reigns over the land. So why does Twilight feel so unaccomplished? Has she completed her studies? Is there nowhere else to go to expand her knowledge? Has she reached her limit?
The worry she won't amount to anything more has left Twilight in a tizzy.
Then Twilight comes across a hidden archive, and she finds a rare spell-book that could push her intelligence to its limit, or destroy it.
[I don't own the show MLP]
[It's thanks to Crimson Arrow and the support of others this was possible, thanks]
------------------------------------
(4/3/2020) : this story is undergoing a few edits.
Chapters (10)