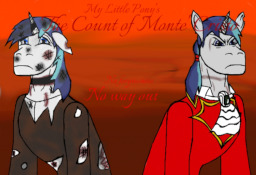 Source
"Shining "Dantes" Armor has had a perfect life as a kind, devoted, caring, and loving stallion. Not only named general of the Equestrian Military, and given a ship of his own to command: But he's also set to marry the mare of his dreams, Cadenze "Cadence" Mercedes. The two of them, whose love proved stronger than even the elements of Harmony. Everything was perfect.
But then, because fate is unkind, and turns a blind eye to other's suffering, Dantes is betrayed by those whom he considered his closest friends. Framed for the crimes of treason, and murder, both of which he had not done, he is condemned to a nefarious prison for the rest of his days. All the while never understanding why he ended up here, and with his fiance' having no knowledge of this treachery. As the years follow, the both of them struggle to hold onto their love, and keep hope alive.
But how can you have hope when all you begin to know is anger? When your only reason for being changes from reuniting with the one you love to having revenge against those who wronged you? Can there be any such hope for redemption in the end? And what DOES such revenge cost? What price is one willing to pay to settle the old scores while pushing aside those who cared for you?
These are the questions which will burn in the mind of Shining Dantes when he breaks free, and amasses a mighty fortune hidden within a secretive isle. But one thing is for certain: the colt he was died in the prison he was trapped in. Now he goes by a new name, tying to the place where he found his treasure, and the beginning of his revenge began.
This is the story of The Count of Monte Cristo, who will learn what the price of revenge is, and find out if he can ever be the same as he was before."
Based on the 2002 film, as well as the musical
Inspired by the Ink Potts animatic series, featuring Rainbow Dash
Chapters (25)