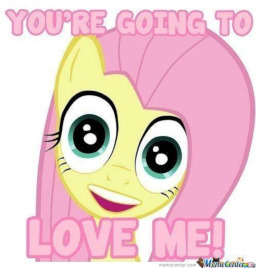 Fluttershy desperately wants to bump uglies with Equestria's only human visitor, who wants nothing to do with her romantically. Her efforts to bed him grow more bizarre and annoying as time goes on, but tend to remain endearingly ineffectual. Even so, there's a sting in the tail...
This is a collection of second-person viewpoint stories that originally appeared on a popular image board, in a thread entitled "Flutterrape". I have edited them to make them actual stories and not mere chains of verdant verbiage. They are not meant to form one coherent narrative, and should be considered as variations on a theme.
Rated "Sex" for some uncomfortably frank descriptions, but please bear in mind that this is neurotica, not erotica. Also, I wasn't allowed to use the "Sad" tag along with the "Comedy" tag, but some chapters deserve it.
Chapters (5)