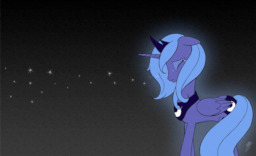 Source
When a pony has a talent in their skill, word about them gets around. Backdrop is a stallion who has been admired for his skill in painting. When a guard from Canterlot Castle comes to tell him he has been requested by Princess Luna, Backdrop snatched the opportunity right up.
But as he entered Luna's room, Backdrop was given one proposition he was not ready for. And it may poison a relationship he had built over the last three years with another mare.
This story is participating in the Two-Faced Charade contest.
A special thanks to Bodzio and two anonymous readers for proof-reading and talking to me about this story. You three helped out a lot :3
Chapters (5)