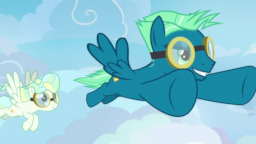 On Hearth's Warming Eve, Princess Luna asks for special duty volunteers from among the Wonderbolts and Reserves. For the first time, Vapor Trail and Sky Stinger have the opportunity to make a child's dream come true. They should have known that Hearth's Warming tends to spread its blessings to all involved.
---
A story for the 2017 jinglemas secret Santa exchange organized by Petrichord. Written for Impossible Numbers.
Featured on Equestria Daily!
Chapters (1)