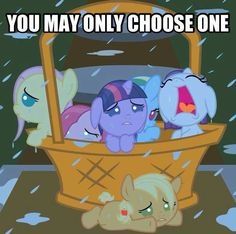 This story is inspired by Brony Parasites user page avatar.
So here I am a single disabled guy not just taking care of, but raising the mane six foals as my daughters.
I'm living every bronies dream. I just hope I don't screw things up but isn't that what every parent worries about. Sorry got to go Twili want's to show me a new magic spell.Wish me luck I'm going to need all I can get.
Spike will show up when the girls get their Cutie Marks.
Chapters (4)