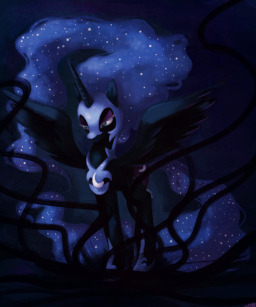 Source
The elements of harmony aren't strong enough to destroy Nightmare Moon, Nightmare wins. She takes the mane 6 captive for her own pleasure and to use them as her servants. Will they adjust to their new life or will they fight against the so-called tyrant? Maybe looks can be deceiving?
What can you expect: Love, adventure, war, plots, traitors, assassinations and more.
I love it when villains win.
Inspiration from these two stories: After That Fateful Night by Peppy Greyskull and Nightmares Don't Last Forever by BB
Also: I'm Dutch, not English. If you leave a dislike then I want to know why. You don't like the story, the grammar isn't good, anything, tell me.
Image used with permission.
Chapters (5)