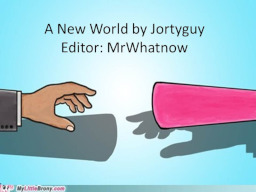 Source
Don't read. It's my worst story with many mistakes, of that I'm sure. Turn around now and never come back. If you do enter this story, then be warned. Your eyes will melt and you'll be blind for the rest of your days. Don't say I didn't warn you.
Twilight found a transportation spell in a book while she was cleaning her libary.
Little did she know that her spell would fail and now she, her friends and Spike are trapped on Earth.
but they don't need to worry because they are in the good hands of Jack, the human.
My editor: MrWhatnow (thank you MrWhatnow.)
Note: please point me to some grammar mistakes I made because English isn't my native language, Dutch is.
Also would you be so kind enough to see if I didn't make some mistaks with the comma's. Thanks.
Chapters (8)